Educational Kits | RoboPlus 1.0
본문

RoboPlus is a free programming software for
programming ROBOTIS products.

Easily program robots or make motions to make learning robotics more enjoyable!
Free download available at www.robotis.com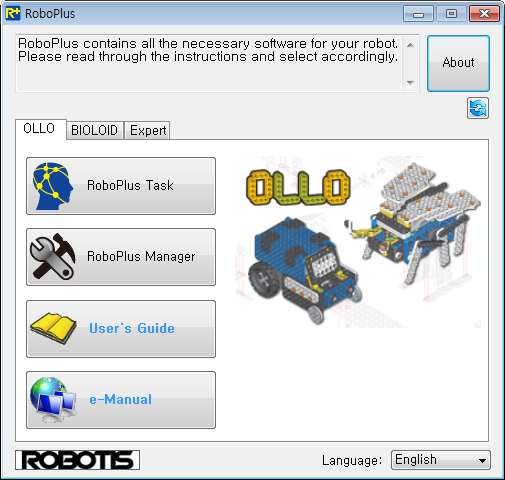 [System Requirements]
▶ OS : Windows XP SP2 / Vista / 7 (32/64bit) / 8 (32/64bit)
▶ 32-Bit (x86) or 64 Bit (x64) Processor over 800MHz
▶ Graphic card with 3D acceleration function
▶ System memory over 512MB
▶ Hard disk with the extra space of 500MB


The RoboPlus suite is composed of the following programs, each with powerful functions to create or edit programs, manage hardware components, etc.


RoboPlus Task
Create and download programs to operate the robot

RoboPlus Manager
Configure and manage robot components

RoboPlus Motion
Create and download robot motions (not supported by some products)

RoboPlus Terminal
Manage robot controllers (for advanced users)

Dynamixel Wizard
Manage DYNAMIXELs directly from a PC (for advanced users)