2020-07-03 13:32:50 Will Son
Hi,
The SDK source code is written based on the previous generation PRO series.
Since you have the new generation PH42 model, you should also modify the control table addresses in the source code.
For read_write.cpp example, I've modified below(line #41 - #44) so that the code works with PH42.
#define
ADDR_PRO_TORQUE_ENABLE
512
// Control table address is different in Dynamixel model
#define
ADDR_PRO_GOAL_POSITION
564
#define
ADDR_PRO_PRESENT_POSITION
580
I also noticed that in my previous reply where adding account to dialout group, the last parameter was missing for some reason.
Please make sure to add your account to the dialout group as below.
$ 

sudo 

usermod 

-aG

 dialout linux_account
$ reboot
In my case where linux user name is "willson", I enter as below
$ 

sudo 

usermod 

-aG

 dialout willson
$ reboot
Then, I confirmed that the example was running well on my RPi.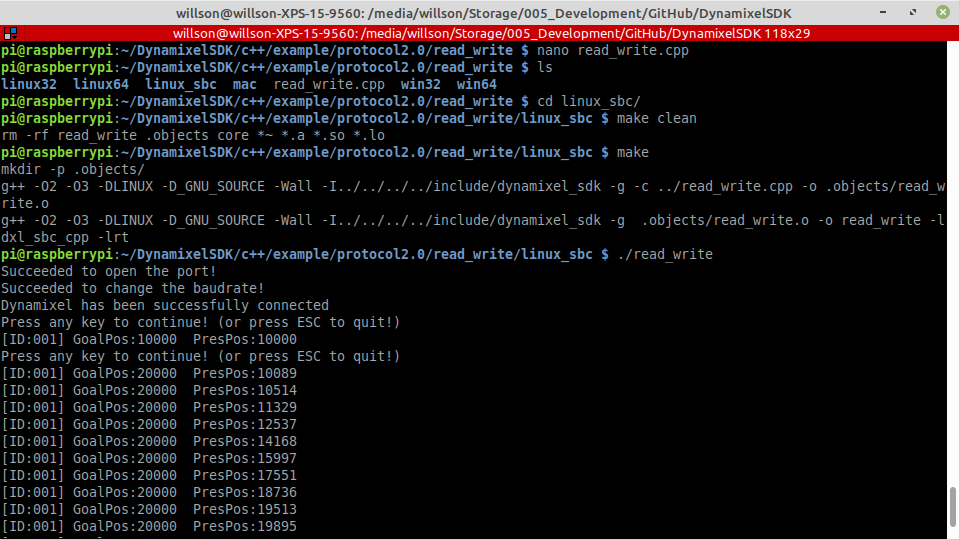 In order to access more data field in the DYNAMIXEL, please refer to below control table.
https://emanual.robotis.com/docs/en/dxl/p/ph42-020-s300-r/#control-table-of-ram-area
Thank you.