스토어 홈
DYNAMIXEL SYSTEM
OpenMANIPULATOR
상품 기본설명
Features
Compact open source robot based on ROS.

Product Name: OpenManipulator-X
Model Name: RM-X52-TNM

It has a high payload as DYNAMIXEL XM-430 model is applied.  

Easy to use with PC or mobile platform such as TB3 Waffle Pi. 

Provides source code and development environment which helps you immediately operate it with TB3 Waffle Pi

You can freely select and use either PC or Controller e.g. OpenCR.

Provides a variety of open source software as well as 3D drawings and CAD data for research and development.
Package Components
| | |
| --- | --- |
| XM430-W350-T | 5 |
| Exclusive Plastic Frame Set | 1 |
| FR12-H101K | 2 |
| FR12-H104K | 1 |
| FR12-S101K | 1 |
| FR12-S102K | 2 |
| HN12-I101 Set | 3 |
| Robot Cable Set X3P (by length) | 5 |
| Bolt & Nut Set | 1 |
| Rubber Pad (Finger Tip) | 2 types x 2 |
| Phillips Screwdriver | 1 |
| Allen Wrench (by type) | 3 |
Specifications
| | |
| --- | --- |
| DYNAMIXEL | XM430-W350-T |
| Power Supply (sold separately) | 12V |
| Freedom of degree | 5 (4DOF + 1DOF Gripper) |
| Payload | 500g |
| RPM (joint) | 46RPM |
| Weight (assembly) | 700g |
| Length | 380mm |
| Gripper stroke | 20~75mm |
| Interface | TTL Level Multi Drop BUS |
| Software | ROS. DYNAMIXEL SDK, Arduino, Processing |
| Controller (sold separately) | PC, OpenCR |
Dimension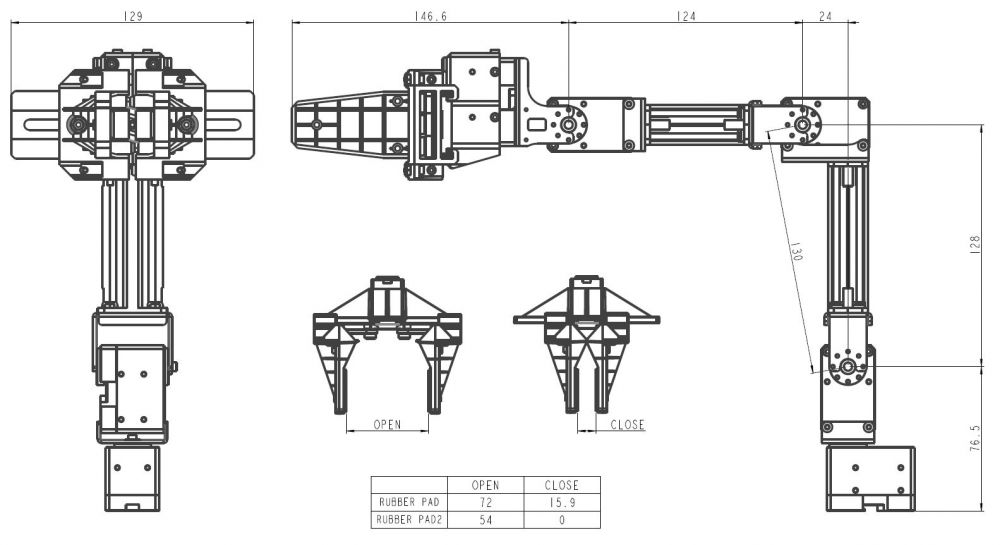 Various Applications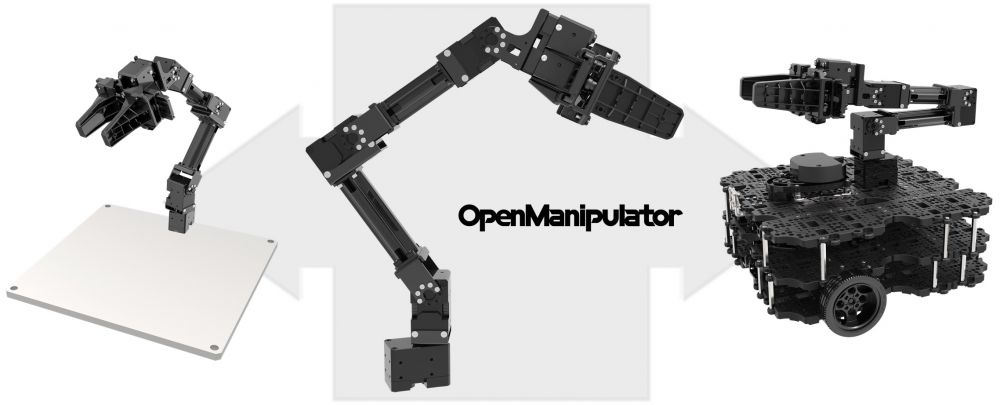 Sold Seperately
| | |
| --- | --- |
| Power Supply | SMPS 12V 5A, U2D2 Power Hub Board |
| Controller | OpenCR or PC |
| Interface | U2D2 |
| Etc. | Base Plate-02 |
Package Contents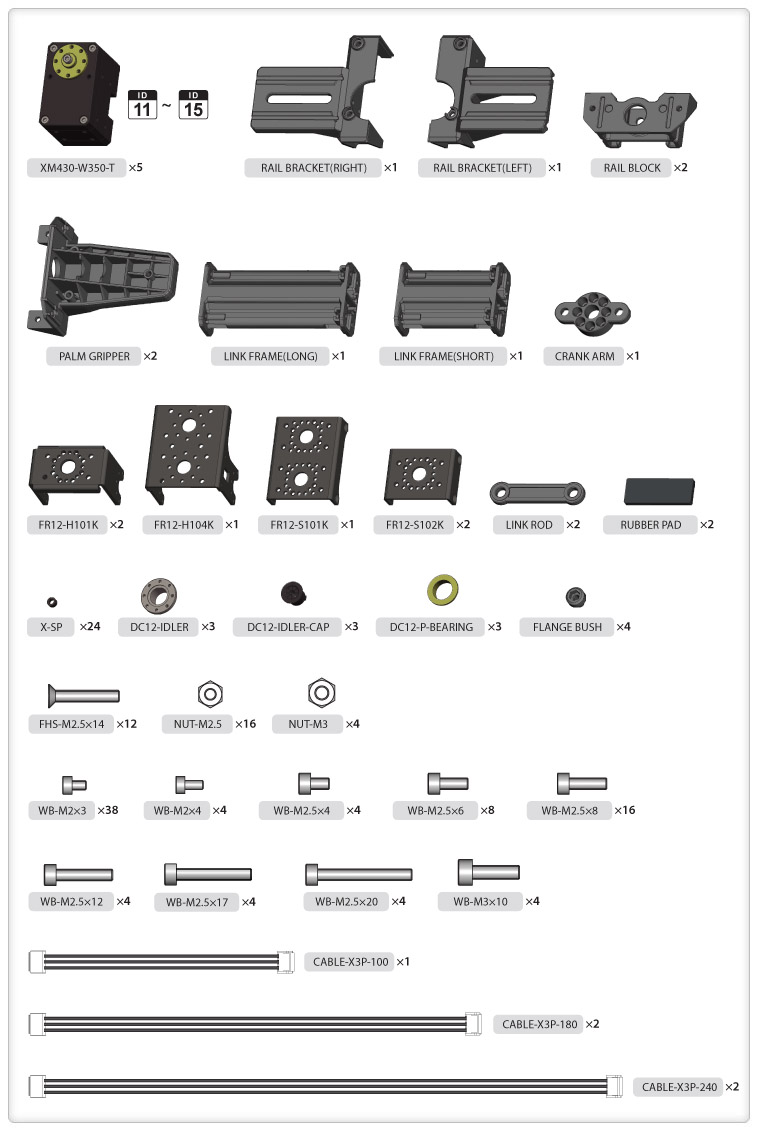 Caution
Power supply, and controller are not included.
Please purchase separately. 

Compatible with TB3 controller and power.

The assembly manual is not included, but you can download the PDF file on online for free.
(Refer to below link)


1. All international orders are processed via DHL from KOREA (not USA) unless otherwise requested.
2. Orders are normally processed within a 2 week time period. A lead time is applicable for certain items. (Normally ships out within 3 working days when in stock).
3. If multiple orders are placed on the same day, they will be shipped in the same package, unless requested to ship separately by order. If an error is discovered in your order that requires change or cancellation, please contact us immediately. We will not be held responsible for any costs that may arise due to your negligence.
4. Please note that destination charges (import tax, customs duty, etc.) are not included in the shipping charges. We will not be able to calculate or pre-pay this fee for you.
5. If an order is placed and the payment is not settled within 14 days, it will automatically be cancelled. If necessary, please re-place the order and make the payment in a timely manner.
6. We recommend you to insure your orders to avoid lost or damaged shipments which is 1% from the total invoice value. We will not be held responsible for lost or damaged shipments.

1. If you are not completely satisfied with your order you may return it within 14 days from your shipment date for an exchange or refund. However, all non-defective products must be in their original packaging, and un-opened new condition. We will not be held responsible for return shipping charges.
All returns must go through the RMA process prior to being sent back to us.
Please note, we will not make any exchanges or repair unless WE HAVE ISSUED YOU AN RMA#.
Please check warranty.
2. Returned packages must include an RMA number on the outside of the package, as well as a copy of your printed invoice.
If you do not have your invoice, please include your name, address and phone number, so we may contact you regarding any questions we may have.
We have the right to refuse your shipment if we have not issued a RMA nubmer.
3. All returned items must be in there original package state. We are not responsible for damage to the print-head or circuitry as a result of improper handling, storage, or misuse.
When removing protective tape and devices please be sure not to damage these areas.
4. Requests for replacement or refunds will not be granted until your returned packages have been received.
5. Please allow up to 14 business days to process your refund from the time it reaches our warehouse, if you need an immediate replacement, we recommend that you place a new order and request a refund of the original order separately. We will not be held responsible for cancellatioin fees.
6. When returning any items, please confirm return address and keep note of the tracking number to avoid losing shipments.
We will not be held responsible for lost items.
7. We reserve the right to deny credit or replacements and charge the customer for parts and labor if the product returned are deemed satisfactory or non-defective.
8. We are not responsible for customer shipping costs to return non-defective or incorrectly ordered products.
9. Customers must obtain a Return Material Authorization('RMA') number by contacting Customer Service at contactus2@robotis.com. Returned products should be informed in advance before being returned.